This afternoon I went to Anne Sommer's excellent talk on the history of housing rights in post-liberation Shanghai, and took some brief notes. Sommers is a lawyer whose frustration at the difficulties of buying an old home in Shanghai lead her to research the history of housing rights in the city and how they stand in the way of preserving its cultural heritage. I'd like to point out the "Two Ironies and One Tragedy" (you know you've been in China too long when…) of the event:
Sommers envisioned, and the audience bemoaned with her, a future when living in a restored Concession-era house would only be fate of the "mega-rich". Ironically, the audience at the talk wasn't exactly the bottom of Shanghai's barrel.
The talk was held in the Puli Hotel, a "new Urban Resort Concept that blends the immediacy and convenience of being in Shanghai's most central location with the quiet, emotional indulgences of a peaceful, luxurious resort". Ironically, according to Google Earth, as late as the year 2000 the site of this hotel was occupied by what appears to be traditional Shanghai lane houses. See Google's satellite imagery below.
The tragedy, which Sommers alluded to at the conclusion of the Q&A session but didn't fully capture, is not that the material evidence of the concession era is being hoarded in the hands of the elite and crushed under the bulldozers of the big developers, but that the unique Shanghainese urban culture that thrived in the lanes and art-deco apartments is disappearing as its environs are being destroyed. In my estimation, the best hope for the preservation of this culture is not the foreign professional class that attended the talk, but low-income young people who are willing to mold their lifestyles to the challenges posed by lane life, rather than those who would mold the neighborhoods to fit their lifestyle.
That said, I learned quite a bit from the talk and I hope that it does spur some grass-roots efforts at stopping the demolition of Shanghai popular heritage.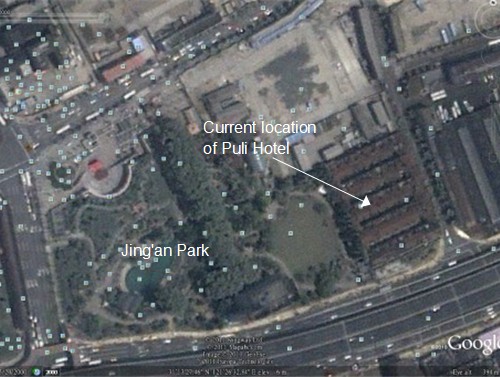 (Note to self. People I recognized at the talk: Sue Anne Tay, Peter Hibbard, Tess Johnston, Neale McGoldrick, Lisa Movius.)